CSD T458.1149
This model is equipped with a motor with flywheel, switchable red-white light and main head light. Built-in DCC Next18S interface.
Locomotive T458 was produced in the ČKD Praha factory in 1959-73 as a larger and heavier successor of the T435. Initially they were exported to the USSR with the marking code CME2 (numbers CME2-060 and upper). Later on 220 pcs were also delivered to the Czechoslovakia Railways and due to its heavy construction it was more useful than the T435. This model is built with the 3-window cabin.
Accessories are included in the bag.
Lenght
112 mm
Weight
155 g
Min. radius arch
260 mm
Lighting
white, red, interior
Digital
plug Next18
Sound
no,
Count driving axles
4
Count banding axles
0
Coupling
NEM coupling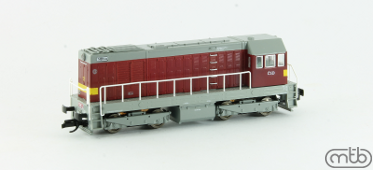 Not suitable for children under 14 years.